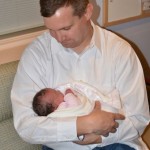 At the time of this writing my wife Kimberly and I have three boys; Aden, Gabriel, and Ethan.  In the spring of 2011 Kimberly and I found out she was pregnant with our fifth child (we had previously lost a son, Matthew).  At her 20 week ultrasound we were elated to find out we were having a girl, only to be told moments later there were complications.  After testing we were given the diagnosis of Trisomy 18, also called Edward's Syndrome.  Her prognosis was dire. There was a rare chance she would make it to delivery, even less of a chance she'd make it through the delivery, and a very remote chance of her living long after birth.
She beat all the odds though – Alexandria Kimberly was born on December 16th, 2011 at 4:26pm weighing 4lbs 12oz, slightly less then a bag of sugar but just as sweet.  Below is an exerpt of the e-mail I sent friends and family describing her birth and baptism:
"She was very still.  They laid her on Kimberly, she moved very slightly.  It did not appear that she was breathing, and the doctor confirmed that she wasn't when I asked.  She did have a heartbeat though, we could feel it on her.  She seemed so weak, so purple.  I could tell from the looks on the nurses, NICU staff, and others that they did not expect her to live long.  I asked them to go get Pastor quickly, and he came into the room.  He asked for a little water and it seemed like an eternity before someone had water in a cup for us.  He baptized her, we prayed, and said the Lord's Prayer.  Immediately after we were done praying she let out a big cough and began to cry so quietly… but breathe.  It was awesome, just an absolutely awesome experience.  It was as if we were granted a "yes" right then and there. "
It was, for me, witnessing a miracle.  The next few days were difficult, we kept her with us (no NICU), and then took her home.  Every day of her life with us was a blessing.  She lived 50 days and never slept anywhere but in our arms, we held her 24 hours a day.  We had birthday parties, we celebrated her life to the fullest with her, giving her as many experiences as we could.  So many people helped us and rallied to us during this time, we thank them so much for sharing her life with us.
This website documents the ups and downs of her journey and our thoughts and feelings as her parents.  Many of the pages here were written in the heat of the moment, and we have left it as such to show how that deep emotion affected us as time went on.  I hope that these pages help prepare other families who have been given this diagnosis.  If you are a parent (new or old) of a child with Edward's Syndrome and want to talk we'd welcome the opportunity to talk, help, or just be a sounding board.  Feel free to share this website with anyone.
Douglas